Información por estado sobre crianza temporal y adopción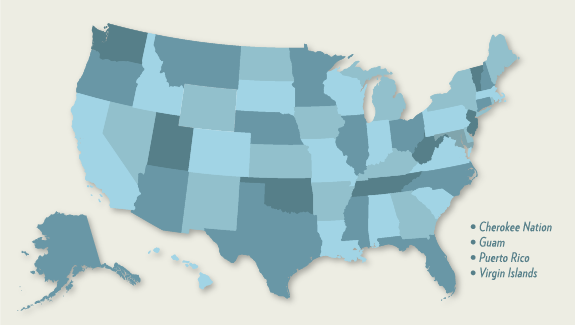 Las normas que rigen la adopción varían entre los estados.
Si ya tiene su licencia para adoptar y está considerando adoptar a un niño de otra jurisdicción (otro estado o sitio), esto le proveerá información general en cuanto a las diferencias entre los requisitos para la adopción y los requisitos del niño de su estado, territorio, o tribu
Si busca información sobre la adopción internacional y crianza temporal, véase nuestra información en la página recursos globales para la adopción.
Alabama
Alabama Department of Human Resources
Las familias interesadas deben ponerse en contacto con el Departamento de Recursos Humanos de Alabama para obtener informacion sobre orientacion y entrenamiento previo en su area.
1-866-4AL-KIDS (866-425-5437)
Families4ALKids@dhr.alabama.gov
Alaska
Alaska Center for Resource Families
1-800-478-7307
Arizona
Arizona Department of Economic Security, Division of Children, Youth and Families
1-877-543-7633
Arkansas
Arkansas Department of Human Services
1-888-736-2820
California
888-336-8860
CARRT@familybuilders.org (email must have a subject line)
Colorado
The Adoption Exchange
800-451-5246, ext. 300
kids@adoptex.org
Connecticut
Connecticut Association of Foster and Adoptive Parents, Inc.
1-888-543-4376
info@cafap.com
Delaware
Latin American Community Center
302-655-7338
thelatincenter.org
403 North Van Buren Street, Wilmington, DE 19805
Children and Families First
302-658-5177 (Si usted vive en el Condado de New Castle)
800-220-3092 (Si usted vive fuera del Condado de New Castle)
cffde.org
Florida
Bob Rooks
904-353-0679 o 800-96-ADOPT
brooks@danielkids.org
Georgia
678-978-6032
matkinson@bethany.org
Guam
Department of Public Health and Social Services
Bureau of Social Services Administration
671-475-2653 o 671-475-2672
194 Hernan Cortez Ave., Suite 309, Hagatna, Guam 96910-5052
Hawaii
Katie Joosse
808-540-2552
kjoosse@familyprogramshi.org
Idaho
Idaho CareLine
1-800-926-2588
careline@dhw.idaho.gov
Illinois
Illinois DCFS Adoption Listing Service and Inquiry Unit at Greenlight Family Services
800-572-2390
scasillas@clsw.org
Indiana
Indiana Department of Child Services
1-888-252-3678
iap@childrensbureau.org
Iowa
Mili Cook
Four Oaks
1-800-243-0756, extensión 2156
mcook@fouroaks.org
Kansas
Kansas Department of Health and Environment
1-877-457-5430
Kentucky
Crystal Dillard o Gail Dick
1-877-994-9970 o 270-809-2052
cpalmisanodillard@murraystate.edu or gaildick@murraystate.edu
Louisiana
Department of Children & Family Services, Office of Community Services (OCS)
1-866-249-0559
Maine
Maine Child and Family Services
207-624-7900
Maryland
Barbara Terry
Maryland Department of Human Resources
410-767-7908
bterry@dhr.state.md.us
Massachusetts
Ricardo Franco
Massachusetts Adoption Resource Exchange
617-542-3678
ricardof@mareinc.org
45 Franklin Street, 5th Floor, Boston, MA 02110-1301
Michigan
Michigan Adoption Resource Exchange (MARE)
1-800-589-6273
mare@judsoncenter.org
Minnesota
Wendylee Raun
Minnesota Adoption Resource Network
612-746-5123
wraun@mnadopt.org
1221 Nicollet Mall, Suite #501, Minneapolis, MN 55403
Mississippi
Edna McLendon
Mississippi Department of Human Services
601-359-4753
edna.mclendon@mdhs.ms.gov
PO Box 352, Jackson, MS 39205
La Sra. Mclendon los conectara con el departamento correcto para asistencia en espanol.
Missouri
The Adoption Exchange
kids@adoptex.org
Montana
Child and Family Services Division (CFSD)
1-866-936-7837
askaboutfostercare@mt.gov
Nebraska
402-471-9272
Nevada
The Adoption Exchange
kids@adoptex.org
New Hampshire
Mary Breen
Department of Health and Human Services
603-271-4454
mbreen@dhhs.state.nh.us
New Jersey
New Jersey Department of Children and Families, Division of Child Protection and Permanency
www.njadopt.org
New Mexico
Juliet Martinez
800-432-2075
Juliet.martinez@state.nm.us
New York
New York State Office of Children and Family Services (OCFS)
New York State Adoption Service
1-800-345-5437
adopme@dfa.state.ny.us
New York City
New York City Administration for Children's Services
Parent Recruitment Hotline
212-676-9474
Fuera del NYC: 1-877-676-9474
North Carolina
Korri Johnson
North Carolina Division of Health and Human Services
820 South Boylan Avenue, MSC #2412, Raleigh NC 27699
877-625-4371
korri.mosley@dhhs.nc.gov
North Dakota
North Dakota Department of Human Services
1-800-472-2622
Ohio
Department of Job and Family Services
Shelene.Williams@jfs.ohio.gov
fosterandadopt.jfs.ohio.gov
Oklahoma
Oklahoma Department of Human Services
1-866-612-2565, option 1
Oregon
Oregon Foster Care and Adoption Information Line
1-800-331-0503
oregonkids@boysandgirlsaid.org
Pennsylvania
StateWide Adoption and Permanency Network (SWAN)
1-800-585-SWAN (7926)
pahelpline@diakon-swan.org
Puerto Rico
Departamento de la Familia
787-625-4900, ext. 1716
familia.pr.gov
PO Box 194090, San Juan, PR 00902-4090
Rhode Island
Everin Pérez
everin@ulri.org
South Carolina
Hispanic Assistance and Bilingual Access (HABLA)
1-803-777-0411
South Dakota
South Dakota Department of Social Services
605-334-6004 (Sioux Falls) o 605-343-2598 (Rapid City)
Tennessee
Tennessee Department of Children's Services
Karen.chamberlain@tn.gov
Texas
Texas Department of Family and Protective Services
1-800-233-3405
Utah
Utah Division of Child and Family Services
801-994-5205
Vermont
Toni Yandow
Vermont Family Service Division
802-864-7467, extensión 2006
Virgin Islands
St. Croix, VI
Office of Intervention Services, Division of Children and Family Services
Lovine Johnson
340-773-5303
lovine.johnson@dhs.vi.gov
St. Thomas and St. John, VI
Office of Intervention Services, Division of Children and Family Services
Charrisse Hart
340-774-0930, Ext. 4392
charrisse.hart@dhs.vi.gov
Virginia
Virginia Department of Social Services
1-800-DO-ADOPT (800-362-3678)
Washington
Sandra Carter Templeman
Northwest Resource Associates
1-800-764-8367, extensión 11
scartertempleman@nwresource.org
Washington, D.C.
DC Child and Family Services Agency (CFSA)
202-671-5683
West Virginia
Rachel Kinder
Mission West Virginia
304-562-0723 o 1-866-225-5698
rkinder@missionwv.org
Wisconsin
Coalition for Children, Youth, and Families
414-475-1246 o 1-800-762-8063
info@coalitionforcyf.org
Wyoming
Wyoming Department of Family Services
307-777-3570