Kealan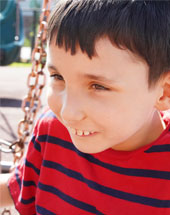 | | |
| --- | --- |
| Race: | White/Caucasian |
| Gender: | Male |
| State: | Massachusetts |
| Case #: | MA015823 |
| Profile Updated: | 3/6/2023 |
| Photo Updated: | 3/7/2023 |
Kealan is a sweet, happy-go-lucky kid of Caucasian descent. Kealan loves singing and listening to music. Kealan lights up when he hears his favorite songs! Kealan also enjoys having books read to him and he loves spending time with his friends.
Kealan uses vocalizations, gestures, picture symbols, and voice output devices to communicate throughout the day. He is an active participant throughout his school day and at home. He is a sweetie!
Legally freed for adoption, Kealan's social worker is looking to place him with a family that is able to meet his needs and help him thrive. A family would need to be able to keep up with Kealan's medical and developmental appointments and help advocate for him in school.
Ready to take the next step?