Elliston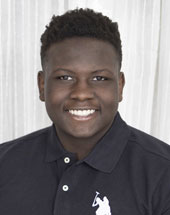 | | |
| --- | --- |
| Race: | Black/African American |
| Gender: | Male |
| State: | Minnesota |
| Case #: | 2920015951 |
| Profile Updated: | 5/15/2023 |
| Photo Updated: | 5/15/2023 |
Elliston is a talkative, outgoing, funny, and brilliant teen who loves to chat and make new connections. He likes playing basketball, football, wrestling, and is even taking a boxing class at school, which he loves! Elliston is excellent at solving Rubik's Cubes and can finish them in minutes. He is a great singer and enjoys singing along to the car radio. Elliston likes reading anything that catches his eye, and would say he would like to have a good library in his area.
A family that can keep Elliston connected to his physical outlets and can continue to help him achieve his potential is a must. Elliston is open to any family composition or religious views. He would prefer to live in a metro area. Elliston loves horses and dogs and would love to live in a home with pets.
Following adoption, Elliston needs maintain contact with his brother and other family members
Ready to take the next step?