Jazmynn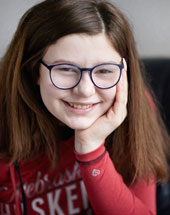 | | |
| --- | --- |
| Race: | White/Caucasian |
| Gender: | Female |
| State: | Nebraska |
| Case #: | NE01128826 |
| Profile Updated: | 3/3/2023 |
| Photo Updated: | 3/7/2023 |
Jazmynn's big heart is what makes her determined to find her forever family. This smart, creative girl loves to do crafts and enjoys making others laugh. This bright youth seeks a home that is loving, patient, and understanding. Jazmynn has endured trauma during her short lifetime and will require additional guidance to help her work through her past. Although she has been through some struggles, she persevered. Jazmynn has been able to make the best of hardships and continues to grow and mature despite challenging times. Like most teenagers, Jazmynn needs consistency, stability and clear expectations from a caring and nurturing adult. She has bright dreams for her future!
Will you consider opening your heart and home to Jazmynn?
Ready to take the next step?