Rolando, Tremayne, Ny'Shaun, Rakiem, Raymond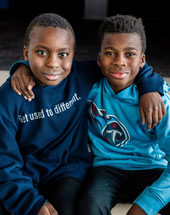 | | |
| --- | --- |
| Name: | Ny'Shaun, Tremayne, Rolando, Rakiem, Raymond |
| Ages: | 15, 14, 12, 11, 9 |
Race:
Black/African American
Gender:
5 male
State:
Tennessee
Case #:
STN0113349

Ny'Shaun, 15, male
Tremayne, 14, male
Rolando, 12, male
Rakiem, 11, male
Raymond, 9, male

Profile Updated:
1/17/2023
Photo Updated:
2/22/2023
Ny'Shaun is a very determined young man who loves outings. He is a sports lover, and his favorite sports to watch and play are basketball and football. Ny'Shaun is a true meat lover, but his favorites are chicken and steak. Ny'Shaun loves his siblings and enjoys spending time with them. He enjoys drawing and watching Tremayne play sports.
Tremayne is a very active young man who loves to socialize. He loves sports of all kind, including boxing and football. Tremayne loves to try new foods, but has his favorites which are burgers, steak and all types of seafood. Tremayne loves his siblings and enjoys spending time with them.
Rolando is very expressive and will clap, laugh, and dance around to show you how excited he is. Rolando loves to be around young children and people in general. He enjoys going on errands and out in the community with his foster family as long as he does not have to walk too much and can be in his stroller. Rolando enjoys going to school. His favorite thing about school is riding the bus and going to PE. Rolando loves seeing his brothers and has a strong bond with them. Rolando enjoys snacking on vegetables and will pull you into the kitchen when he is ready for another bowl. After coming home from school and enjoying his snack, Rolando loves to sit on the couch and hang out with his foster parents.
Rakiem is a very active young man who loves to play and watch sports. He is known to be quiet until he warms up to you. He loves spending time with his siblings and loves to socialize with friends and his foster family. Rakiem is very spirited once he gets to know you, and nothing beats seeing his big smile cover his face! He is loving and gentle with small children, and he adores babies. Football is his go-to activity. He wants to play football non-stop! He loves helping others and will be the first one to ask, "Can I help you carry that?" He's the kindest young man you'll ever meet!
Raymond is a very bright young man who excels in school. He is an honor student and takes pride in that. Raymond loves to build things in his workshop as well as read books. He is extremely outgoing and loves football. Raymond loves Jesus, and his one big wish is that there would be justice in the world. He adores his brothers, but especially Rakiem. They play so well together. Raymond yearns to have a family, and he would do well with or without other children in the home. He is a future college football running back with the gentlest soul. He would love nothing more than to build something with you, see the world, and learn new things!
Ready to take the next step?