Lincoln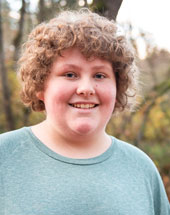 | | |
| --- | --- |
| Race: | White/Caucasian |
| Gender: | Male |
| State: | Oregon |
| Case #: | 0603C10496 |
| Profile Updated: | 8/7/2023 |
| Photo Updated: | 8/13/2023 |
Lincoln is an intelligent and curious kid with a great smile. Those who know him see him as an amazing, caring, and lovable youth! Lincoln has a dry sense of humor and is a great conversationalist. One of his favorite hobbies is Legos and he's skilled at creating large, elaborate structures. He's currently saving up for a Millennium Falcon Lego set! Playing videogames is another favorite pastime for Lincoln. He loves new and exciting opportunities, and usually jumps at the chance to go on weekly church outings and participate in other community activities.
Lincoln also loves swimming recreationally, floating around in the pool, and shooting hoops. He enjoys checking out new cars and knows a ton about them! He likes radio-controlled models and wants to keep growing his knowledge about vintage and luxury cars. These interests are connected to his goals and dreams for the future - Lincoln hopes to one day work with cars and own his own car shop!
Lincoln tends to be pretty easygoing. With meaningful time and support, he can adapt well to his environment and doesn't shy away from trying new things. He's improved leaps and bounds at being able to accept feedback and is growing a lot in this area. He appreciates being able to have time and space to process on his own, but is good about circling back to check in and talk things out with others when he's ready.
Lincoln has a number of biological family members that he has varying degrees of contact with. Other important folks for Lincoln include his CASA, DHS staff, and his current foster parents. Building valuable relationships is a big strength that Lincoln has! He is very close to a previous foster parent that has been a positive influence in his life. Lincoln would like to maintain these relationships to whatever extent possible; his adoptive family will need to value and support these connections alongside Lincoln.
Lincoln has thrived in his current school setting and works hard at his academics! Peer relationships are important to Lincoln, and he's making great progress in being able to make those connections. He would like to have more chances to build these relationships and will benefit from adult support with that. Lincoln's self-confidence has benefitted greatly when adults are patient and encouraging towards him. He responds well to positive encouragement, as well as a calm and straightforward demeanor and communication style. He thrives with one-on-one attention from his caregivers and does well when the positive steps he is making are acknowledged.
It will be important for Lincoln's adoptive family to keep him connected to his current supports as he enters his teen years. Lincoln will need to continue participating in a variety of services, so it's important for his caregiver(s) to have strong advocacy and communication skills that they can use to support and uplift him. Lincoln needs an adoptive family who will provide ongoing opportunities for his voice to be heard and who can help build him up as a decision-maker in his own life. His adoptive parent(s) also need to be patient and realize that it will take Lincoln time to build trust with them. Lincoln's team thinks that he would do best in a home with no other children, or with much older siblings so he can get all the time and attention he deserves.
Lincoln is open to a family with either a single parent or two parents of any genders. He's said that he would enjoy being in a home with other young people, though his team thinks it would be best if they're older than Lincoln so that they can be a positive influence and mentor for him. Lincoln would like a family that is active and goes out regularly. Given his keen curiosity, he hopes his adoptive family will be able to expose him to new opportunities and experiences. If you can see this engaging, funny, curious, and creative kid as a part of your family, please reach out to us! We're excited to help Lincoln find the supportive and understanding adoptive family that he so deserves.
Ready to take the next step?