Aliyah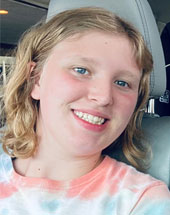 | | |
| --- | --- |
| Race: | White/Caucasian |
| Gender: | Female |
| State: | Ohio |
| Case #: | ZH5261904952 |
| Profile Updated: | 8/24/2022 |
| Photo Updated: | 8/25/2022 |
Aliyah is a 12-year old girl who strongly desires to be adopted into her forever family who will love and support her.
Aliyah is a sweet girl who wants a family to call her own. She receives A's and B's in school. Aliyah is very social and connects quickly with those around her. She enjoys Barbies, Legos and anything Anime. She is very knowledgeable about birds and loves to take trips for ice cream. Aliyah would like to increase her piano skills through piano lessons. She is connected with her church beliefs and would benefit from a family that are involved in their church community.
Aliyah would like a forever family that will allow her to try new things but will be mindful of her intellectual disabilities. She is in need of support and direction for day to day activities but is open to learning new things.
Ready to take the next step?