Kai'Dynce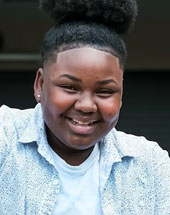 | | |
| --- | --- |
| Race: | Black/African American |
| Gender: | Female |
| State: | Alabama |
| Case #: | 59012022052LC |
| Profile Updated: | 8/1/2022 |
| Photo Updated: | 8/2/2022 |
Kai'Dynce, born 2006, is bold, blunt and very funny. She has a straightforward personality and is very outgoing once she is comfortable with someone. Kai'Dynce loves to joke around with others and make them laugh. She is very helpful and sweet.
Kai'Dynce loves to travel and play basketball. She is a creative person who enjoys spending her free time drawing and reading books.
Kai'Dynce loves school and takes pride in her academic achievements. She does very well in all of her classes, her favorite subject being Math.
Kai'Dynce is most proud of how much she has grown as a person over the years and can't wait to find a family that is fun, active and loving.
***Photo Courtesy of Heart Gallery Alabama***
Ready to take the next step?