Delani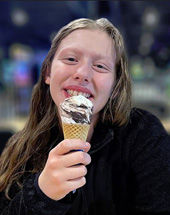 | | |
| --- | --- |
| Race: | White/Caucasian |
| Gender: | Female |
| State: | Kentucky |
| Case #: | KY01F0196 |
| Profile Updated: | 10/20/2022 |
| Photo Updated: | 11/17/2022 |
Delani is a petite young lady with long sandy brown hair, who is loving described as a happy, friendly, and mostly outgoing girl. Delani is creative and artistic, and likes singing and music, writing poetry and songs, and she enjoys reading, and often reads for fun in her room She also enjoys being outside, exploring. She loves anything to do with Dragons and horses, and she also loves crystals. She has several that she likes to keep with her at all times.
Delani would do best in a home with few, or no other children, unless they are older. She enjoys one on one attention, and enjoys watching movies, listening to music, and going to concerts together in a family setting. She says she wants a family and to be in a home where she feels happy and safe.
Ready to take the next step?