Alexander, Braden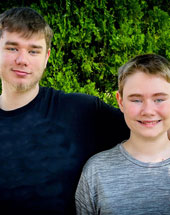 | | |
| --- | --- |
| Name: | Alexander, Braden |
| Ages: | 17, 12 |
Race:
White/Caucasian
Gender:
2 male
State:
Missouri
Case #:
SMO1413157

Alexander, 17, male
Braden, 12, male

Profile Updated:
8/4/2022
Photo Updated:
6/1/2022
Alexander and Braden are brothers who deserve one caring adult to keep them together!
Alexander, who likes to go by "Alex," is a determined and hard-working fellow! For fun, he spends a great deal of time playing paintball. Alex is up for any opportunity that means chilling out with his friends. He has a knack for building computers and enjoys playing games on the computer. He appreciates spending time at the gym and likes going for a swim every now and then. Dogs are well-liked friends, and Alex also chooses blue first. Flying would be the obvious choice for a superpower for this teen. The most requested meal for Alex is Chinese cuisine. A respectful guy, he has positive relationships with adults. Alex also does well with peers. He can see himself working with computers when he is an adult. Alex eagerly thinks about what having his driver's license and getting a part-time job would change for him. He is a good big brother and is said to be caring and helpful towards Braden. He is now in the eleventh grade and on target to graduate. Alex enjoys his P.E. class.
This future businessman is Braden! He has his dreams set on being the CEO of his own company when he is grown up. For now, Braden is content to play popular computer games. He recently began the journey of learning to play guitar and already plays the trombone. Braden appreciates the company of dogs and goes crazy for anything with noodles; spaghetti and Italian food are huge hits. One of his favorite talents to share with others is his dance skills. Like his brother, Braden wants to be able to fly as his power, and he likes the color purple best. Watching tv is a well-used pastime. Braden delights in interactions with peers and is a social butterfly. He is known to be kind and thoughtful to his foster parents and teachers. He loves to talk and try new things. As a sixth-grader, Braden always looks forward to lunchtime and his cooking class.
All family types will be considered for Alex and Braden. We only will consider inquiries on this dynamic pair of brothers as they will be placed together. Financial assistance may be available for adoption-related services.
Ready to take the next step?