Kimberly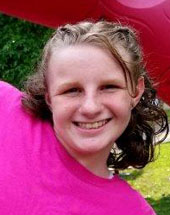 | | |
| --- | --- |
| Race: | White/Caucasian |
| Gender: | Female |
| State: | Ohio |
| Case #: | ZH05Kimberly |
| Profile Updated: | 9/28/2021 |
| Photo Updated: | 9/28/2021 |
Kimberly is friendly, outgoing, inquisitive, and talkative! She is easy to get along with and hard not to like as soon as you meet her. Kimberly is small for her age but makes up for that in personality, spunk and determination! She enjoys being outdoors but there are a lot of activities she hasn't yet had the opportunity to experience. She likes riding bikes and enjoyed doing yoga with her previous foster parent. Kimberly enjoys school and does well academically. She is a social young lady and tries to make friends with her peers.
Kimberly would do well with a one or two parent household and she loves helping to take care of little ones. She will need parents who will provide structure, guidance and be willing to participate in her treatment plan, preferably prior to placement in the home.
Athens County Children Services has permanent custody of Kimberly. Subsidies may be available.
Please have your worker send your homestudy and
Child Characteristics Checklist to:
Tanja.Kuhre@jfs.ohio.gov
Ready to take the next step?