Preston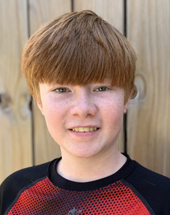 | | |
| --- | --- |
| Race: | White/Caucasian |
| Gender: | Male |
| State: | South Carolina |
| Case #: | SC02SCS-0001912856 |
| Profile Updated: | 11/16/2022 |
| Photo Updated: | 10/20/2022 |
Preston is a very energetic, ingenuitive and outgoing, teenaged boy who will make you laugh and keep you in stitches. Crafty and creative, Preston is fun to spend time with. Preston loves to be hands on. He enjoys assembling things, working on puzzles and building with Legos. Preston likes working on engineering projects using cardboard or anything accessible around the house to create something new and useful. These types of task allow him to cultivate and hone in on his creative talents.
Although he is small in stature, he makes up for it with his big personality. He is friendly and talkative. He has a hands-on approach with everything he does and works well with his peers. Although he does prefer working alone at times on his projects, he is a team player and doesn't mind sharing when able. Preston is not afraid to meet new people or make new friends whenever possible. He deserves a loving family & he needs parents who will provide support and guidance. These committed parents will help Preston rise to his greatest potential as well as cultivate his skills and natural talents he possesses.
Ready to take the next step?