Tanner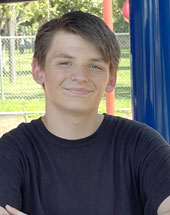 | | |
| --- | --- |
| Race: | White/Caucasian |
| Gender: | Male |
| State: | Idaho |
| Case #: | 30740231395368 |
| Profile Updated: | 10/21/2021 |
| Photo Updated: | 8/10/2021 |
Tanner is truly a joy to get to know! This outstanding young man, with laughter that's contagious, has worked so hard to overcome his past trauma and is now really looking forward to finding a family who will love, support, and guide him as he moves into young adulthood and beyond.
Tanner is creative at heart and loves to have many outlets in his life that express who he is. Art is his first passion and he really loves to do it in some unusual ways! Tanner creates "candy art" by using candy and other food items to express his art on canvas. He also loves creative baking and is talented at making his own sushi and baking sugar art. Tanner describes these outlets as "A great way to play with your food and not get in trouble for it!" He hopes to someday start his own You Tube channel that would showcase his artistic talents and teach his skills to others.
This eclectic teen has a multitude of other varied interests as well, including reading sci-fi or scary novels, watching "Stranger Things," listening to several different genres of music, swimming, going to carnivals and beating everyone around him at Monopoly! Tanner thinks that prospective parents need to know that he's a "night owl," that he likes his cell phone a lot, and that he will definitely try to talk you into buying him a snapping turtle!
Tanner is very open to many different types of families as well as families who live out of state. He describes the right parent for him as someone who is patient and understanding of his past trauma and who understands and appreciates his sarcastic sense of humor. Most of all, this deserving teen just wants to be accepted and valued for who he is and to find someone who will never give up on him.
If candy art and snapping turtles might just be your thing too, or even if they're not, we hope that you decide to take the leap today and inquire to learn more about Tanner!
Ready to take the next step?