Isaac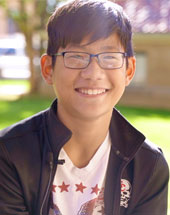 | | |
| --- | --- |
| Race: | Asian |
| Gender: | Male |
| State: | Wyoming |
| Case #: | 3432011173 |
| Profile Updated: | 8/18/2021 |
| Photo Updated: | 7/27/2021 |
Isaac is an active 14 year old boy who enjoys football, basketball, and riding horses. His current favorite sports teams are the Seattle Seahawks and the Golden State Warriors. Isaac is currently participating in equine therapy and enjoys being around the horses. He is very smart and loves to read. Currently, his favorite books involve dragons. He does well academically and his favorite subject is science.
Isaac loves the holidays and is looking forward to spending that quality time together with his future family. His favorite holiday is Thanksgiving because everyone is spending time together and there is a lot of food!
Isaac is in the 9th grade. He has shown a lot of interest in playing sports and his goal is to get a sports scholarship when he attends college. He has a lot of interests and is eager to learn about new things so he will always be up for new adventures!
Ready to take the next step?