Will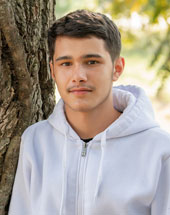 | | |
| --- | --- |
| Race: | White/Caucasian, Hispanic/Latino |
| Gender: | Male |
| State: | Mississippi |
| Case #: | MS16MS104 |
| Profile Updated: | 4/23/2021 |
| Photo Updated: | 4/27/2021 |
Will considers himself a people person. He likes to beat box, sing, and dance. He also enjoys playing sports and staying active. When he grows up, he would like to be a welder or construction worker. He also would like to learn to be a UFC fighter so he can channel his emotions in a positive way. If he could go anywhere in the world, he would travel to Cuba so he could learn about his culture and heritage. He thinks life with a family would be good because it would give him a place to belong.
Photography: Anne McDaniel Photography
Ready to take the next step?