Tyler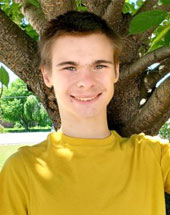 | | |
| --- | --- |
| Race: | White/Caucasian |
| Gender: | Male |
| State: | Pennsylvania |
| Case #: | PA01C41AC24 |
| Profile Updated: | 11/2/2020 |
| Photo Updated: | 11/5/2020 |
"Wonderful," "smiles a lot," and "having no meanness" are just some of the ways people describe Tyler, a friendly and caring teenager who loves to talk with his hands. He enjoys socializing with people of all ages and especially loves to be goofy with his foster brother! He's caring and always asking how others are doing and how he can help them. One of his favorite things to do is help his foster family with their garden, where he enjoys pulling the weeds, watering the plants, and helping to carry bags of fertilizer. He'd love to find a family who could teach him more skills that he can utilize outside.
When Tyler has free time he benefits from structure, prompts, and suggestions when trying to decide what to do. He enjoys playing board games and card games and also likes to play with Lego blocks and read books… especially "Pete the Cat"! He recently read a book about firefighters and is interested in learning more about them and what they do. Typical for a teenage boy, he LOVES food. Sometimes he'll ask, "what's for lunch?" before he finishes his breakfast! He's not a picky eater, but some of his favorite foods are salads, pancakes, and spaghetti.
Tyler is in middle school where he enjoys some additional supports to help him do his best. He loves his teachers and going to school. All of his teachers speak very highly of him, especially noting his friendliness and helpfulness in the classroom. His favorite part of the day is gym class! He takes great care of his belongings, and is very proud of the things that he completes.
Tyler is looking for a maternal and paternal figure in a family, or a single mother. He gets along well with other children but would do best as the youngest child in the family. He also loves pets, especially cats and dogs! He's been attending weekly church services with his current resource family for the last year and would really like to find a family who will continue to support his religious preferences. He understands adoption and has expressed that he can't wait to find his "forever family!"
Parental rights have been terminated for Tyler.
Ready to take the next step?