Desmond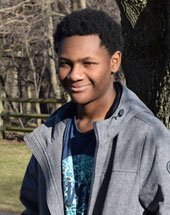 | | |
| --- | --- |
| Race: | Black/African American |
| Gender: | Male |
| State: | Ohio |
| Case #: | ZH0225739 |
| Profile Updated: | 7/1/2020 |
| Photo Updated: | 7/3/2020 |
Desmond is an easy going, kindhearted, and courteous young man. Desmond's favorite past time is to play Fortnite and enjoys meeting new friends who also play. Desmond is an unparalleled artist and enjoys sketching anime characters from his favorite TV series, Sword Art Online. Desmond hopes to hone his creative abilities to help create and improve new video games when he is older. Desmond achieves average grades in school, and enjoys math. Desmond looks forward to working this summer and enjoys learning new independent living skills. Desmond is very open minded to all homes. Desmond is eager to find a forever family that will support and care for him.
Could you be the family Desmond is searching for?
Ready to take the next step?