Andrew, Melvin, Camille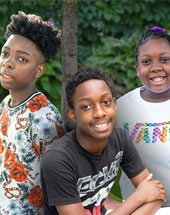 | | |
| --- | --- |
| Name: | Andrew, Melvin, Camille |
| Ages: | 15, 13, 11 |
Race:
Black/African American
Gender:
2 male, 1 female
State:
Georgia
Case #:
SGA0112335

Andrew, 15, male
Melvin, 13, male
Camille, 11, female

Profile Updated:
1/8/2021
Photo Updated:
10/15/2020
Andrew, Melvin and Camille are close African American siblings who like spending time with family and listening to rap music.
Future rapper Andrew, born in 2006, is a funny and smart teen who enjoys drawing, watching videos on YouTube,and playing and watching football and basketball. At school, where he earns good grades, Andrew's favorite subjects are math and science.
Melvin, born in 2007, is a funny and silly boy who enjoys playing tag, video games, chess, checkers, 'Sorry!', and football and basketball. He also enjoys watching cartoons, anime shows like 'Dragon Ball Z', and football and basketball games. The Atlanta Falcons are his favorite team. At school, where he earns good grades and gets along well with the other kids, Melvin enjoys reading and spending time with his friends. He looks forward to attending college after graduating from high school.
Camille, born in 2009, is a happy girl who enjoys doing cheer and gymnastics, dancing, TikTok videos, and listening to gospel music. She also enjoys going places, riding her bike, playing fun board games, and watching 'Madea' movies and football games, especially when the Dallas Cowboys are playing. At school, where she gets along well with her peers, Camille's favorite subjects are art and math. She looks forward to going to college and getting a job, a car and a house when she grows up.
Andrew, Melvin and Camille need a loving adoptive family who will give them the attention, support, encouragement, structure and nurturing environment they need to continue to thrive and reach their goals.
Ready to take the next step?