Kaleb, Kaden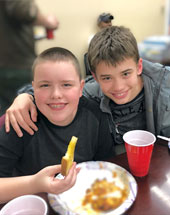 | | |
| --- | --- |
| Name: | Kaleb, Kaden |
| Ages: | 16, 14 |
Race:
White/Caucasian
Gender:
2 male
State:
North Carolina
Case #:
SNC10512310

Kaleb, 16, male
Kaden, 14, male

Profile Updated:
4/30/2020
Photo Updated:
5/4/2020
Meet this awesome sibling group of two boys, Kaleb and Kaden. This pair will add enjoyment and amusement to any family! Kaden and Kaleb love to laugh and have a good time. The boys are an active duo full of energy. Kaden and Kaleb love being outdoors and riding their bikes. Kaleb is described by those that know him best as a kind-hearted, friendly, and polite young man who loves to be helpful around the home. Kaleb enjoys engaging in conversation with others. Kaden is depicted as loving, kind-hearted, and responsible. Kaden is a hard-worker and loves to please others.
Kaleb is currently in the ninth grade. Kaleb works hard academically and attempts to complete his assigned tasks. Kaleb has expressed an interest in a career in law enforcement or possibly a career path related to cars and trucks. Kaden is currently in the seventh grade. Kaden has impressive social skills in the school environment and does not have difficulty creating new relationships. His teachers describe him as a hard worker who immediately focuses on assigned tasks. Kaden would like to pursue a career in the science field.
Kaden and Kaleb have a strong desire to be in a forever family together. They long to be adopted and to be a part of a nurturing and loving family. The two would like for their forever family to have an active lifestyle. Kaden has expressed an interest for him and his brother to be the only siblings in the home. However, he has shared he would consider families with other children. The parents for Kaden and Kaleb will need to be strong advocates to ensure they receive the most beneficial services to be successful throughout their years. The forever family will need to have qualities such as patience, understanding, and the ability to meet the boys where they are emotionally as they transition into their new family and environment. Kaden and Kaleb would greatly benefit from loving parents who consistently promote a nurturing environment that is accentuated by guidance, encouragement, and reassurance.
Ready to take the next step?