Jada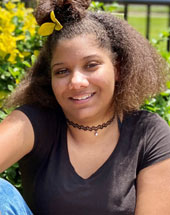 | | |
| --- | --- |
| Race: | Black/African American, White/Caucasian |
| Gender: | Female |
| State: | Ohio |
| Case #: | ZH76Jada |
| Profile Updated: | 6/1/2021 |
| Photo Updated: | 5/25/2021 |
Kind and determined are words Jada would use to describe herself. She enjoys horseback riding, swimming, camping, and cookouts. She also loves animals and looks forward to having a pet of her own one day to take for walks.
Jada is currently a high school student whose favorite subject is English. When she's not studying, she can be found spending time with her friends. Jada plans to attend college and would like to have a career as a veterinarian or cosmetologist.
Among Jada's many interests are reading, drawing, writing, shopping at the mall, fashion, make-up, and food. Ice cream and gummy bears call her name!
Family and funny people make Jada happiest. She would very much like to be adopted by a loving and kind family who will provide a stable home and accept her for who she is. Her ideal family will enjoy spending time together, doing anything from outdoorsy activities to community events in a large city. Jada would love to have one or two siblings and, of course, some pets!
Ready to take the next step?