Justice, Julius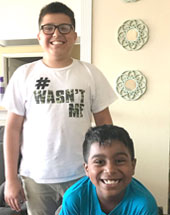 | | |
| --- | --- |
| Name: | Justice, Julius |
| Ages: | 13, 9 |
Race:
White/Caucasian, Hispanic/Latino, Black/African American
Gender:
2 male
State:
Texas
Case #:
STX0111943

Justice, 13, male
Julius, 9, male

Profile Updated:
3/20/2020
Photo Updated:
9/19/2019
Justice and Julius are a pair of brothers who are extremely close to one another.
Justice is the oldest, he is extremely close to and protective of Julius. At times, Justice comes off as more of a parent figure to Julius than an older brother. Justice is quiet, reserved, and introverted; however, he will open up when he feels comfortable with an individual. Justice makes friends and is social with others. He finds ways to connect over similar interests such as football, video games, Pokémon, and music.
Julius is a very sweet and loving little boy, he enjoys being a jubilant and carefree little boy. Julius is very social, outgoing, and friendly. He enjoys showing appropriate physical affection to others, such as hugging and giving high fives. Julius shares many of the same interests such as Justice, like enjoying and playing football, playing video games, and playing Pokémon.
Ready to take the next step?