Lisa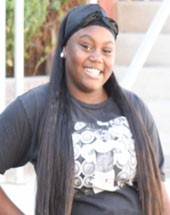 | | |
| --- | --- |
| Race: | Black/African American |
| Gender: | Female |
| State: | Arizona |
| Case #: | AZ11572485 |
| Profile Updated: | 9/12/2019 |
| Photo Updated: | 9/9/2019 |
Lisa has two dreams for her future: to become an attorney and have her own law firm or to be a cosmetologist and own a cosmetology business.  Just like her sister, Lisa is very athletic and likes to practice for track and field. She prides herself on competing for shot put and the 100/200 meter dash.  Lisa's favorite subject in school is English because it gives her the opportunity to express herself.  She is proud of getting good grades.
Lisa does not want to leave Arizona as she has many connections here and does not want to lose those.
Ready to take the next step?