Zanelle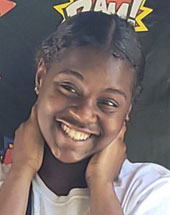 | | |
| --- | --- |
| Race: | Black/African American |
| Gender: | Female |
| State: | Pennsylvania |
| Case #: | PA01C51DF82 |
| Profile Updated: | 8/24/2020 |
| Photo Updated: | 12/29/2019 |
Zanelle, also known as Nelly or Chocolate Drop according to her, is an outgoing and talkative girl who is ready for a forever family. She enjoys where she is currently living, however she is excited to find her forever family. Zanelle likes to cook, clean, and go shopping. Her favorite food to cook is Jamaican and while she would like parents who can cook, she is willing to teach them how to make her favorite recipes. Zanelle does enjoy cleaning and makes sure her personal space is cleaned and organized, but wouldn't mind receiving an allowance for any chores she does around the house. Currently, she is actively looking for part-time jobs, so she can make money to not only save but also to buy shoes, and clothes. Zanelle, like most teenagers, likes being spoiled but wants her independence and responsibility to go shopping on her own sometimes.
Zanelle's hobbies include praise dancing and singing. She also likes to spend her time writing rap music and is ready for her day in the spotlight. Zanelle has a strong faith and enjoys attending church on Sunday. Following her adoption, she would like to continue to attend her current church, if possible, and would like her family to attend with her.
Like anyone, she can experience a range of emotions. When she is frustrated, she wants to be able to talk to someone and have the ability to have her own space to appropriately express her emotions. Her biggest pet peeve is when people touch her stuff; she would love to have her own room, but if she has to share she would like her sister to respect her space and belongings.
Zanelle would like a two-parent home and would love to have an older sister, if possible. She wants a family who she feels respects, helps, and loves each other. It is important to her that her mom will take her shopping to buy shoes or get her hair done. Zanelle wants to be able to talk to and cook with her mom. She wants a dad who will spoil and take care of her and a family who wants to spend time with her. She also wants a family that can help her to maintain her connection to her culture. She would love to continue to live near southeastern Pennsylvania, if possible, but would also be fine with a family where she could maintain her connections to this area.
Parental rights have been terminated for Zanelle.
Ready to take the next step?