Nathan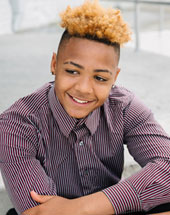 | | |
| --- | --- |
| Race: | Black/African American, White/Caucasian |
| Gender: | Male |
| State: | Florida |
| Case #: | 10130110028925 |
| Profile Updated: | 10/16/2019 |
| Photo Updated: | 7/30/2019 |
This charismatic, smart, friendly, and playful young man has a big smile bound to make anyone's day brighter!
Nathan loves to be active and is a hands on learner who would love to participate in activities such as football, boxing, and Tae Kwando. He enjoys listening to both rap and country music and he aspires to go into the military after high school.
Nathan is looking forward to being a part of a family who will be there to cheer for him and support him unconditionally. He will thrive with a family who are easy-going, nurturing, positive, and open to allowing continued contact with people important to him.
Ready to take the next step?