Salina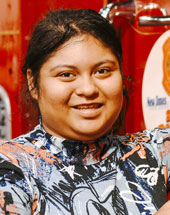 | | |
| --- | --- |
| Race: | Hispanic/Latino |
| Gender: | Female |
| State: | Arizona |
| Case #: | AZ19554506 |
| Profile Updated: | 12/9/2021 |
| Photo Updated: | 8/5/2022 |
Salina is a young woman full of energy and humor. She loves playing volleyball and basketball with her friends, and jamming to her favorite music, rap. When she is in her element, you can find her breaking out new dance moves and she loves to teach others how to dance. She enjoys going to the park to play basketball, or to Peter Piper Pizza to play games and eat hot wings.
At school, Salina enjoys math class and learning new things with her peers, and she is a great advocate for herself and what she needs. She dreams of going to Disneyland or Disneyworld someday, and if she could have three wishes, she would wish for unlimited coffee, unlimited Takis, and to be a great singer.
Salina would thrive in a family that will love and support her where she is at. She would benefit from a one or two parent family that has experience with children from care, and can provide a lot of one-on-one time. The family for Salina will be patient, understanding, and help her stay connected to her siblings in Arizona.
Salina was born in 2006.
If you are interested in learning more about Salina, please contact SYP-Inquiries@cfcare.org
Ready to take the next step?