Malachi, Jamir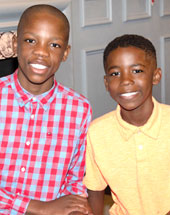 | | |
| --- | --- |
| Name: | Malachi, Jamir |
| Ages: | 14, 11 |
Race:
Black/African American
Gender:
2 male
State:
New Jersey
Case #:
SNJ0111416

Malachi, 14, male
Jamir, 11, male

Profile Updated:
11/27/2018
Photo Updated:
11/8/2018
They may be polar opposites; however, Jamir and Malachi are an inseparable pair who aspire to serve their country in the Armed Forces one day.
Jamir is an extrovert and very active. He enjoys physical activities including playing sports, going to the trampoline park and swimming. He enjoys getting his hands dirty and being interactive. Jamir has a love for American muscle cars with his favorite being a Ford Mustang.
Malachi is an introvert and enjoys quiet activities. He is quite the talented artist and continues to learn new drawing techniques. Malachi enjoys playing video games, watching movies, listening to music and reading independently.
Jamir and Malachi enjoy playing and watching football together. Jamir is a New York Giants fan and Malachi a Dallas Cowboys fan. The boys have an incredible bond and will need to be adopted together. In addition, they have a sister with whom they wish to remain connected. Jamir and Malachi are seeking a forever family who can provide unconditional love and support.
Ready to take the next step?