Julian, Rebecca, Vincent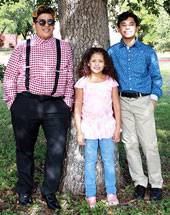 | | |
| --- | --- |
| Name: | Julian, Vincent, Rebecca |
| Ages: | 16, 14, 11 |
Race:
White/Caucasian, Hispanic/Latino
Gender:
2 male, 1 female
State:
Texas
Case #:
STX0111397

Julian, 16, male
Vincent, 14, male
Rebecca, 11, female

Profile Updated:
6/5/2020
Photo Updated:
7/18/2019
Julian, Vincent, and Rebecca share a close connection, which is evident to anyone who sees them. They are an active and friendly sibling group who enjoy having fun together and making each other laugh. Like any siblings, they do have their disagreements. Julian is the eldest of the group and is protective of his brother and sister. He enjoys making others laugh and cooking. Vincent is quiet and very soft spoken. He shares a close bond with his older brother and enjoys spending time with him. Rebecca is also very quiet and shy, but once she is around her brothers, she is outgoing and talkative. It is evident she feels a sense of security when they are present. The children seem to share a love for different sports and enjoy getting together and playing a pickup game of soccer or football. These three are gifted and talented in their own special way. They are looking forward to opening their hearts to their forever family!
Visit us at the Bluebonnet Country Heart Gallery.
Ready to take the next step?