Makayla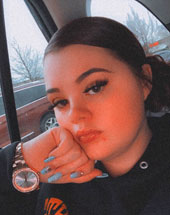 | | |
| --- | --- |
| Race: | White/Caucasian |
| Gender: | Female |
| State: | South Carolina |
| Case #: | SC02SCS-0001361920 |
| Profile Updated: | 12/15/2020 |
| Photo Updated: | 3/18/2020 |
Makayla is a strong-willed, talkative and outgoing teenager. Makayla is not shy and is open to meeting new people. Makayla likes to stay active by spending time outside. In her spare time, she loves to hang out with her friends and playing basketball as that is one of her favorite sports. Makayla has dreams of going to college and wants to be a nurse in the military.
Makayla has a strong desire to want to be adopted and wishes for a family that will provide with her stability and love her for who she is. Makayla would do well in a home that is committed to her, loving and understanding. Makayla is very bonded to her younger brother and sibling contact is encouraged. Makayla is currently legally free for adoption. She can be placed out of state.
Ready to take the next step?