Destiny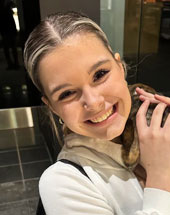 | | |
| --- | --- |
| Race: | White/Caucasian |
| Gender: | Female |
| State: | North Carolina |
| Case #: | NC10504-7200 |
| Profile Updated: | 8/4/2020 |
| Photo Updated: | 8/6/2020 |
Destiny is spunky and dynamic. This beautiful young lady would make the perfect addition to just the right family. Her beautiful smile and big personality will captivate anyone!! Compassionate, energetic, and smart are just a few more words that help describe Destiny. Don't expect to find Destiny indoors on a beautiful day. She loves to be outdoors engaging in a variety of activities. A passion for sports, Destiny will often be found practicing gymnastic stunts, dancing, and swimming. Destiny loves to dance and sing. She is a spiritual individual and enjoys attending and participating in church activities. Destiny has a healthy appetite. Her favorites tend to be macaroni and cheese, pizza, and fried chicken.
Destiny deserves all the love, stability, and permanence that a forever family offers. It has been noted Destiny has a strong desire to find her forever family. She would benefit most from a family that parents with a nurturing spirit and yet can provide consistency, discipline, and structure. The family for Destiny should also be capable of providing her with loving guidance and allow her to be active. A family who is able to meet Destiny where she is and develop upon her strengths would be beneficial to Destiny achieving success. Destiny will blossom in the right family and will bring an abundance of love, laughter, and joy to the family dynamics.
Ready to take the next step?