Ariana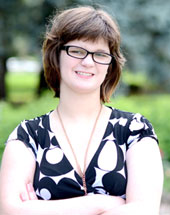 | | |
| --- | --- |
| Race: | White/Caucasian |
| Gender: | Female |
| State: | Nebraska |
| Case #: | NE0106262018 |
| Profile Updated: | 5/29/2019 |
| Photo Updated: | 1/8/2019 |
Ariana is a friendly, outgoing young woman. She is talkative and able to express her wants and needs appropriately. Ariana loves music, especially Taylor Swift, Ariana Grande and Usher. Ariana also is a great reader and enjoys Harry Potter and Judy Moody books. Ariana describes herself as being helpful and a great big sister. She enjoys going to school and likes to learn new things. Ariana is looking for a Forever Family to help guide her into adulthood.
Connections
Ariana will need support maintaining relationships with important people in her life, including an older sister, younger brothers, uncles, aunts and cousins.
Ready to take the next step?