Ariana, Ronald, Bruce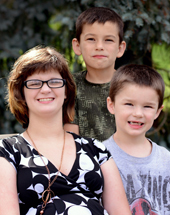 | | |
| --- | --- |
| Name: | Ariana, Ronald, Bruce |
| Ages: | 15, 9, 6 |
Race:
White/Caucasian
Gender:
2 male, 1 female
State:
Nebraska
Case #:
SNE0111194

Ariana, 15, female
Ronald, 9, male
Bruce, 6, male

Profile Updated:
6/26/2018
Photo Updated:
9/6/2018
Ariana, Ronald and Bruce are fun loving, active siblings looking for a Forever Family where they can be together. They share a love for reading and learning new things.
Ariana is a friendly, outgoing young woman. She is talkative and able to express her wants and needs appropriately. Ariana loves music, especially Taylor Swift, Ariana Grande and Usher. Ariana also is a great reader and enjoys Harry Potter and Judy Moody books. Ariana describes herself as being helpful and a great big sister. She enjoys going to school and likes to learn new things. Ariana is looking for a Forever Family to help guide her into adulthood.
Ronald is described as very smart, doing well in school both academically and behaviorally. Ronald is very proud of his grades in school and works hard to maintain these. Ronald says his favorite thing is to learn new math skills as that is his favorite subject. Ronald also enjoys being active and spending time with his siblings. He likes being creative with drawing and coloring. Ronald plays soccer, likes to watch Marvel movies and loves to read.
Bruce, the youngest in his sibling set, is very inquisitive and eager to learn. He is looking forward to starting school and being able to meet new friends. Bruce loves to play with Transformers, Nerf guns and dinosaurs. He is active and has fun going to the park, swimming and the zoo. Like his older siblings, Bruce enjoys reading, especially Clifford books. Bruce looks up to his siblings and enjoys spending time with them.
Connections
Ariana, Ronald and Bruce will need support maintaining relationships with important people in their lives, including an older sister, uncles, aunts and cousins.
Ready to take the next step?