Famela, Noah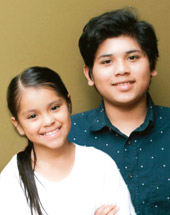 | | |
| --- | --- |
| Name: | Noah, Famela |
| Ages: | 15, 10 |
Race:
Hispanic/Latino, American Indian/Alaskan Native
Gender:
1 male, 1 female
State:
Oklahoma
Case #:
SOK0111142

Noah, 15, male
Famela, 10, female

Profile Updated:
8/9/2019
Photo Updated:
7/31/2019
Noah is a friendly, quiet, flexible, fun, and kind teenager. He is a creative spirit who enjoys taking pictures, drawing, and making videos. Noah is an easy going guy who makes friends with ease. His favorite subject in school is art and least favorite is math. Like most teenagers, Noah's favorite possession is his cell phone. In his free time, Noah enjoys spending quality time with his caregivers watching Netflix, going shopping, or spending time outside walking together.
Famela is a compassionate, playful, sassy, and active young lady. She cares very deeply for her brothers. In Famela's free time, she enjoys gymnastics, shopping, jumping on the trampoline, and swimming with friends. On the weekends Famela enjoys sleeping in and helping her caregiver with household chores. Famela is looking for an adoptive family that likes adventure and wants to travel. Famela has big dreams of getting to see the Eiffel Tower one day. An interested fact about Famela is that she wants to be a doctor when she grows up.
Ready to take the next step?