Domanic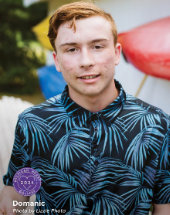 | | |
| --- | --- |
| Race: | White/Caucasian |
| Gender: | Male |
| State: | Michigan |
| Case #: | MI01C09545 |
| Profile Updated: | 10/5/2023 |
| Photo Updated: | 9/28/2023 |
Domanic is a delightful young dude who's eager to please. "Domanic is kind, active, helpful, goofy and enjoys engaging with others," says one of his close adults. Domanic delights in playing sports, especially football and basketball. "Domanic is creative and likes drawing, designing and painting," adds one of his close adults. He enjoys spending time outdoors and likes going for walks along the creek where he lives. Domanic says sleeping is his favorite thing to do after school, and math is his favorite subject in school. His favorite weekend activity is playing games. On his list of favorite things, Domanic includes pizza for food, lions for animals and the red for color. He enjoys building things with Legos and having fun with his friends. Domanic's favorite holiday is Halloween which he enjoys celebrating by "just having fun." Domanic says his dream destination is Hollywood "because it looks cool." He isn't certain about a career path just now, but he does know he wants a family. "I really look forward to being adopted," Domanic says. He adds that he hopes to just "hang out and spend time together" with them.
One of the adults who knows him well says, "Domanic is energetic and funny. He is very sweet and helpful. He enjoys being active and likes being busy in the home and at school. Domanic does well with tasks and helping out in whatever environment he is in. Domanic is a visual learner and does well with modeling."
Domanic would do well with two parents who are experienced and trauma informed. In addition, his new forever family must advocate for the services that will help Domanic thrive. They also must be patient as Domanic adapts to his new home. In addition, Domanic would benefit from being the only child in his new family.
Ready to take the next step?