Caleb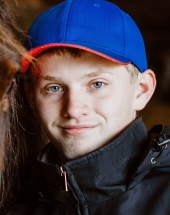 | | |
| --- | --- |
| Race: | White/Caucasian |
| Gender: | Male |
| State: | South Dakota |
| Case #: | 7260151763 |
| Profile Updated: | 5/28/2019 |
| Photo Updated: | 6/4/2019 |
Meet Caleb! Born in 2003, those close to Caleb describe him as smart, caring, polite, and a lot of fun. This personable and energetic young man is such a hard-worker. He is dependable and always willing to help with whatever needs to be done. Caleb consistently does well in school, putting forth good effort. He will be in the 11th grade for the 2019-2020 school year. These days you will often find him out in the barn doing chores or riding his favorite horse, Jazz. Caleb also loves to play video games, board games, basketball, Frisbee golf, and collecting cards. Caleb takes special care to keep his belongings neat and tidy. He is quite creative and skilled in crafty projects and hopes to do something related to interior design work in his future.
Caleb longs to be adopted by a family who will be there for him throughout his life. Caleb would love a family that is funny, family-oriented, loving, caring, DIY crafty, and "unique in every way possible". A family for Caleb will need to be committed to him and have an understanding of how trauma affects children. Caleb would do best with a family that enjoys being active. Two parents or a single parent with a good support system would be a good fit. Caleb is open to having siblings and pets. He would prefer to remain in South Dakota or as close as possible to maintain contact with some important people in his life. Could you be the family to give Caleb the stability and security he craves?
Ready to take the next step?