Drey'ona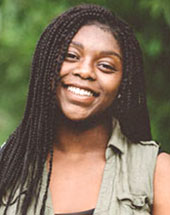 | | |
| --- | --- |
| Race: | Black/African American |
| Gender: | Female |
| State: | Oregon |
| Case #: | SNAC01K3948 |
| Profile Updated: | 2/26/2018 |
| Photo Updated: | 3/2/2018 |
Drey'ona is looking for an active, patient, trustworthy, and caring forever family interested in being guardians to her with the possibility of adoption.
Drey'ona is an extremely artistic and smart teenage girl. She has a multitude of hobbies and is interested in trying new things. She even has a list of adventures she would like to try such as sledding, snow tubing, skiing, and visiting US travel destinations (outside of the two states she has been to: Oregon and Washington). Drey'ona also likes to bake, knit, dance, and sing. She likes to be active and was previously on a basketball and volleyball teams and enjoys taking dance classes (lyrical and jazz dance, she is not a fan of hip-hop). She also enjoys softball and cheerleading, volleyball being her favorite. She is interested in doing track which is important to her as the sport has been prevalent in her family and she would like to continue this. If you were to look at Drey'ona's room, you would learn that she loves the color purple, likes "sparkly" things, and that she is not always organized but is clean and likes having her own room. She also likes to go to movies, attend sleepovers, shop and get mani/pedi's.
Drey'ona would like people to know that she has a good sense of humor; she likes to laugh and make other people laugh; likes to be social but also likes to have her own space especially when she is sad; doesn't like to be compared to others; doesn't like it when things are "unfair"; and she feels it is very important for her to feel heard. Her long term goals are to become a lawyer or own a business of her own.
If given three wishes, Drey'ona would wish to live by the beach, to have a nose ring and her ears double pierced, and to not have to talk about her past ever again. Her favorite foods are burgers and fries. She likes to go to the sushi bar and try new things but doesn't like raw fish.
Drey'ona likes to celebrate traditional American Holidays. She likes to spend birthdays with her friends but is not a fan of frosting on cake so likes to eat plain cupcakes on her birthday. She has a list of how she would like to spend her holidays and traditions she would like to keep or make for each specific holiday.
Drey'ona is a sophomore in High School. She reports that she is really good at math and can "get A's" even with the challenge of having attended multiple schools. She has many strengths noted by school staff to include motivation, creativity, and that she is like-able and gets along well with her peers. Drey'ona's favorite class in school is English because she likes writing poetry and free writing. Drey'ona likes making up new stories with fictional writing.
Drey'ona reports that she is not really religious but does believe in God. She reports previously attending a Christian Church with a friend but is not really interested in going back to Church at this time. Drey'ona identifies as African-American. She is in good physical health.
Drey'ona would prefer a family that has a mother and father. She would like to have her own room and a dog if possible, but not cats, as she does not like cats. Ideally she would like to be the only child, but would be "OK" having one other child in the home. She would prefer to live in Oregon or at least the West Coast so she can continue to have visitation with her grandmother. She wants parents who can remain calm and talk with her when she is upset. It is important that she have caregivers who can follow through with things and help her to gain trust with them. She would like to have parents she can call "mom" and "dad" when she is ready, but wants this to be on her own time.
Please look into your heart and decide if you are the perfect family for Drey'ona.
For inquiries on this child, please contact special recruiter Kathleen Carson at Boys & Girls Aid at kcarson@boysandgirlsaid.org or 1-877-932-2734.
Ready to take the next step?