Alexandra, Cody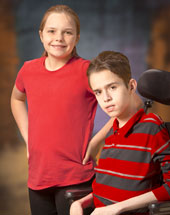 | | |
| --- | --- |
| Name: | Cody, Alexandra |
| Ages: | 15, 13 |
Race:
White/Caucasian
Gender:
1 male, 1 female
State:
Utah
Case #:
SUTAE0310945

Cody, 15, male
Alexandra, 13, female

Profile Updated:
1/30/2018
Photo Updated:
8/10/2018
Get to know this dynamic duo!
Cody loves to greet the world with a big smile! He is happy to be included in activities with others, and interacts with other children through eye contact and checking out what they're doing. Watching television is an activity that is enjoyed by Cody. He is fond of attending school as a ninth-grader.
Making new friends is an activity that makes Alexandra happy! A friendly, cheerful, and social child, she loves sharing in conversations with others. Alexandra is artistic and crafty and considers coloring her biggest hobby. Some interesting facts are that she loves playing board games, her favorite color is pink, and she is open to trying new foods. Alexandra enjoys attending school in her sixth-grade year, earns As and Bs, and has positive interactions with peers and staff.
Cody and Alexandra would do best in a two-parent family with a mom and a dad, two moms, or two dads. We only accept inquiries on the sibling pair, who will be placed together. Financial assistance may be available for adoption-related services.
For Utah children, only homestudied families from all states are encouraged to inquire.
Ready to take the next step?