Kyle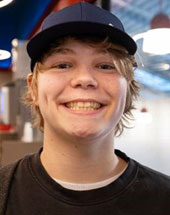 | | |
| --- | --- |
| Race: | White/Caucasian |
| Gender: | Male |
| State: | Idaho |
| Case #: | 30740232277 |
| Profile Updated: | 11/20/2019 |
| Photo Updated: | 9/5/2019 |
Those who know Kyle best describe him as respectful, kind, and a jokester. Kyle dreams of a home where he can have an upstairs bedroom with a TV in it, and have a big, safe back yard to play in. If that home happens to have video games, pets, an I-Pad, and a swimming pool, then Kyle's checklist would be complete!
Some of Kyle's other favorite things include Pokemon, swimming, playing basketball, Chinese food, and Captain Crunch cereal.
When asked to describe what attributes great parents for him would possess, Kyle describes parents who are nurturing, patient, understanding, kind, respectful, loving and who can commit to him through the good times as well as through the rough patches.
Kyle would love to have both a mom and a dad and wants to be in a family where he is either the only child or the youngest child in the home.
Kyle's team is searching for a family who truly values connection and will assist him in maintaining relationships with his biological siblings whenever it is in his best interest to do so.
Ready to take the next step?