Del-Vyon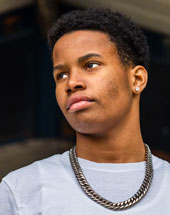 | | |
| --- | --- |
| Race: | Black/African American |
| Gender: | Male |
| State: | Missouri |
| Case #: | MO14178652 |
| Profile Updated: | 4/24/2023 |
| Photo Updated: | 5/3/2023 |
You may find Del-Vyon spitting bars in his free time, practicing his rapping skills! Del-Vyon appreciates art and music, and he loves to make people laugh. He is keen on playing basketball when he isn't entertaining others with his wittiness. Del-Vyon also enjoys hopping on a skateboard to explore his neighborhood. If he needs a relaxing activity, he will likely pick up a controller to play video games. Red is Del-Vyon's favorite color, and he would want to possess strength if he could award himself with a superpower. Del-Vyon is caring and is known to have positive connections with adults and peers.
This funny fellow is in the ninth grade.
Del-Vyon would do best in a family that resides in an urban area; however, his caseworker will consider all family types. He has significant connections to maintain following placement. Financial assistance may be available for adoption-related services.
Ready to take the next step?