Miles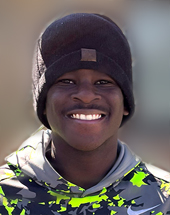 | | |
| --- | --- |
| Race: | Black/African American |
| Gender: | Male |
| State: | Washington |
| Case #: | 06114997 |
| Profile Updated: | 10/31/2022 |
| Photo Updated: | 11/10/2022 |
Miles loves to play chess. And he's gotten really good over the years!
Just by being around Miles, moods are lifted. A bright and intelligent kid, everyone who knows Miles really enjoys being around him. Miles has a well-rounded personality and an array of interests, from the inner workings of technology to the sporting world. His creativity lends itself well to his interest in tech, where he can expend his creative energy through tablets and computers, playing video games and learning about the world. Get him on the field, and he's ready to play anything – basketball, football, soccer – he loves all sports. Miles is described as compassionate and caring, and he has plenty of close relationships because of his big heart.
"He is the sweetest kid I've ever met."
Miles is well-loved at school, in his community, and by the adults who know him. Miles maintains a close relationship with a few of his family members and would like to continue nurturing the bonds that mean so much to him. In school, Miles thrives on consistency and having clear expectations. Miles does well in school and appreciates his educational opportunities. He has no problem asking a question when he needs clarification, and in doing so, has a better opportunity to expand his horizons and take in new information. Miles has progressed significantly when it comes to independence in the classroom and holding himself accountable for his school work. He will do best with an adoptive family who can help him manage his time when it comes to school and homework.
There are a slew of things that Miles is interested in. He is a kid of many hobbies including playing board games, listening to hip-hop, playing video games, drawing, coloring, painting, and of course, getting outside to ride his bike. Miles is also incredibly talented and creative, which is something you can see best if you are lucky enough to check out his sneaker designs. What a mind!
Miles would really like to be adopted. He responds well to significant adults who have been involved in his life, and he appreciates getting to know people. Families that include an active and encouraging father-figure would be a really great fit for Miles. Miles would do well with older brothers or sisters who can act as role models and friends to the young man. Miles will make a great addition to a family, particularly one who loves to make and eat food together; one of Miles's favorite things in the world is good food.
Miles loves music. He picked some of his favorite tracks to feature in his own playlist!
Miles is invested in his own progress and would really love to connect with a family who is interested in helping him continue to learn and grow as a person. Miles is really goal-oriented; being adopted by a family who wants to help him accomplish those goals is really important to him. An adoptive family who is attentive, supportive, patient, and understanding would be a great fit for Miles. Miles will do best in a home where he's the only child and there are no big dogs. If you are a family who is interested in learning more about a loving and active kid, please let us know! Finding Miles the right adoptive family would be incredible.
Miles was so involved in creating his In-Depth Profile. See how it all came together!
Miles is also featured on the Northwest Adoption Exchange website. Please check out his profile for the possibility of additional photos, videos, and inquiry information.
Profile current as of October 31, 2022
Ready to take the next step?