Sky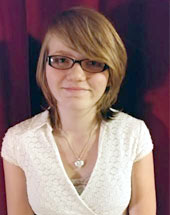 | | |
| --- | --- |
| Race: | White/Caucasian |
| Gender: | Female |
| State: | Washington |
| Case #: | 06015067 |
| Profile Updated: | 3/15/2018 |
| Photo Updated: | 8/10/2017 |
Sky has a great love for horses and seems to have a telepathic connection with them - she says she can feel a connection with them in "some sublime way." She is an enthusiastic rider who is in her element when riding, and participating in lessons is one of her most favorite activities. Sky would love to share her special connection and love of horses with her new family! Another favorite pastime is creating arts and crafts in multiple media. She loves to draw and color and enjoys designing things out of beads, fabric, etc. Sky can be quite fun and entertaining (she loves to sing – albeit off-key!). She's a fan of most pop music, and is especially drawn to bands with a strong female lead. It is when Sky's life is going well that one is most apt to see her at her best.
Now in 8th grade, Sky has good writing and spelling skills and does well in the classes that most engage her interest. English is her favorite class, as she loves writing and reading. Trying to motivate Sky to put forth the same level of effort in the subjects which don't engage her interest, however, is a work in progress. It is important to make sure that Sky has supports to assist her in being attentive and in managing those executive skills that include staying on track, impulse control, problem solving, and planning and organization.
Sky would love to have an adoptive family which would provide regular opportunities to pursue her love of horses, arts and crafts and other interests! Having a family that has a repertoire of tools and strategies and positive parenting skills will benefit Sky. A stable, consistent daily routine; clear rules and limits, and calm, patient parenting will help Sky feel safe and secure. An adoptive couple will likely meet Sky's needs best. If you are a couple that would welcome the opportunity to help Sky navigate adolescence and prepare her for adulthood, we encourage you to contact us soon.
Skyis also featured on the Northwest Adoption Exchange website. Please check out her profile for the possibility of additional photos, videos, or additional inquiry information.
Profile current as of March 15, 2018.
Ready to take the next step?