Jennifer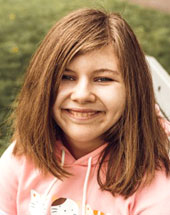 | | |
| --- | --- |
| Race: | White/Caucasian |
| Gender: | Female |
| State: | Pennsylvania |
| Case #: | PA01C22CC93 |
| Profile Updated: | 10/26/2020 |
| Photo Updated: | 10/29/2020 |
Let's have a sing-a-long with Jenny! If you don't have a great singing voice, that's okay, because Jenny will take the lead vocals! One of Jenny's favorite sing-a-along songs is "Let it Go", as well as other Disney favorites. Jenny definitely gets wrapped up in the princess world when her favorite songs are playing. As you can imagine, Jenny has a very active imagination. In addition to singing, she enjoys crafts, taking her baby doll for walks, and playing "teacher" to a class of dolls and stuffed animals. Jenny says that her "students" would describe her as "nice and fun." These terms can also describe Jenny when she is a student in the classroom as well. She is also described as "helpful and hardworking." Jenny does require some extra assistance in the classroom to help her focus and understand the life skills she is learning.
Jenny's active imagination and love of art really help Jenny express herself when things get tough. She also enjoys participating in equine therapy and other forms of pet therapy to cheer her up. The pet therapy also helps Jenny learn how to build trust, form bonds, and to love unconditionally. Spending time with animals also allows Jenny to express her natural caregiver personality.
Jenny would do best in a home where she is the youngest or only child. Experienced foster families with knowledge of children with special needs would also be best. Jenny currently does not have contact with birth family, but a potential resource should be open to this possibility.
Parental rights have been terminated for Jenny.
Ready to take the next step?