Shayatta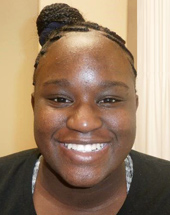 | | |
| --- | --- |
| Race: | Black/African American |
| Gender: | Female |
| State: | Washington, D.C. |
| Case #: | DC01839831 |
| Profile Updated: | 3/8/2018 |
| Photo Updated: | 5/8/2017 |
Shayatta is an insightful, lively, and passionate young lady who lights up the room with her big smile. Shayatta has the ability to communicate her perspective clearly, and she is a strong self-advocate. She can be cooperative and polite when interacting with adults and peers.
Shayatta enjoys hanging out with friends and family. She enjoys skating, listening to music, and crocheting. Her favorite subjects are math and world history. She received good grades in both of these subjects. Shayatta aspires to be a social worker in the military.
Shayatta's favorite food is pizza. She also enjoys playing on the computer and talking with friends on her cell phone.
Shayatta wants a loving family who will take time to give her the attention she needs and not easily give up on her.
Shayatta needs a nurturing, committed, and caring family who will assist her in reaching her fullest potential.
Ready to take the next step?