Leonard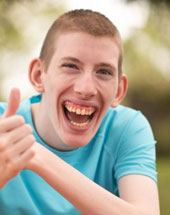 | | |
| --- | --- |
| Race: | White/Caucasian |
| Gender: | Male |
| State: | Pennsylvania |
| Case #: | PA01C64AA53 |
| Profile Updated: | 11/11/2021 |
| Photo Updated: | 7/9/2021 |
If there is one thing you should know about Lenny is that he LOVES to laugh! Lenny tells everyone his nickname should be "Laffy Lenny," since he loves to laugh and make others laugh as well! It does not take long to get to know Lenny. He enjoys spending time relaxing in a comfy chair chatting about his favorite things, while also learning more about you as well. Lenny is very personable in that way!
Mint Oreos, chocolate pretzels, and bubblegum can be added to the list of Lenny's favorite things! If you couldn't already tell, he has a bit of a sweet tooth! Bubblegum is also the inspiration behind Lenny's favorite color which is pink! He says, "I like bubblegum and I can blow huge bubbles. The secret to getting big bubbles is Bazooka Joe gum, which is pink." Lenny has a carefree spirit and will sing and dance at the drop of a hat! He will even sing his own song about chocolate that he may sing for you!
Since Lenny is a teenage boy, he has a big appetite and also wants families to know how much he loves sweet potatoes! "I like food a lot and I would like to know what sort of foods other people like. Do you like sweet potatoes? I like sweet potatoes and I like them when they are sweet and made with cinnamon and other things. I could tell you all about it. I like cauliflower and carrots too." With Lenny's sweet tooth, his love of sweet potatoes should come as no surprise. Lenny would love a family who gather in the kitchen and make a sweet potato recipe with him during the holidays. Can you imagine helping Lenny add marshmallows and cinnamon to this yummy dish?
And Lenny is so "sweet" it is no surprise he considers himself helpful as well. "I am a helpful guy and I like helping people. I do chores like my laundry and the dishes. I don't like setting the dining room table because I have to set it for a lot of people right now. I would rather do the dishes." While Lenny is very helpful, a family who will continue to teach Lenny life skills, such as doing the dishes, will help Lenny be successful as he grows older. A family with understanding of special needs would also be beneficial to Lenny's long term goals.
Parental rights have been terminated for Lenny.
Ready to take the next step?