Barbara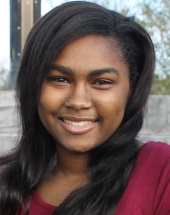 | | |
| --- | --- |
| Race: | Black/African American |
| Gender: | Female |
| State: | Mississippi |
| Case #: | MS165473 |
| Profile Updated: | 9/1/2017 |
| Photo Updated: | 7/13/2017 |
Barbara is a beautiful and friendly child. She may appear shy and reserved at first; however, she becomes very outgoing and talkative once she becomes familiar with someone. Barbara does well in school, and she is in the ROTC program. When she finishes high school, she plans to join the Army. She gets along with all her peers, and has no behavioral issues. Barbara is interested in the theatre, and modeling. She enjoys going to the movies, dining out, and shopping.
Barbara is ready to find her forever family. She expressed that she would like to be in a two parent household, and be the only child. Barbara needs a family that will be there to provide her with guidance and support. She will thrive in a home once she has a sense of being loved unconditionally. Barbara has siblings that she plans to maintain contact with.
Macwis ID-3435563
Ready to take the next step?