Jonathon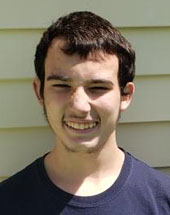 | | |
| --- | --- |
| Race: | White/Caucasian |
| Gender: | Male |
| State: | North Carolina |
| Case #: | NC10504-3464 |
| Profile Updated: | 7/7/2020 |
| Photo Updated: | 7/7/2020 |
Meet Jonathon! This intelligent and resilient young man is described by those who know him best as respectful, friendly, and caring. Jonathon loves sports and is quite athletic. He enjoys football, basketball, and baseball. He not only enjoys participating in sports, but enjoys watching them as well.
In school, Jonathon's favorite subject is science. His teachers describe him as "always respectful and has manners." Jonathon has shared he would like to attend college in hopes of one day becoming a meteorologist.
Jonathon has shared he really wants to be adopted into a loving, forever family. He desires the loving guidance, safety and stability that a forever family offers. His preference is for a two parent family with at mother and father. Jonathon would benefit from having a positive role model placed in his life. He would also benefit from a family that has insight into grief and loss issues. Jonathon needs a family that is committed to allowing him to remain connected to identified birth family connections.
Ready to take the next step?