Eric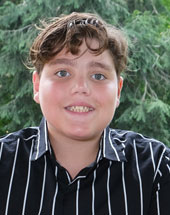 | | |
| --- | --- |
| Race: | White/Caucasian |
| Gender: | Male |
| State: | New Jersey |
| Case #: | NJ010050MR |
| Profile Updated: | 10/19/2021 |
| Photo Updated: | 10/22/2021 |
Meet Eric, an engaging, imaginative and fun loving young man. He is described as "warm and affectionate" and as someone who is "eager to connect". He enjoys talking about so many ideas and has questions about everything.
Eric excels at basketball. He enjoys playing with WWE wrestling figures and enjoys skateboarding and bicycling. He likes to fish and wants to learn how to swim and become a lifeguard.
Eric would do best in a family that is creative and lives an active lifestyle with solid structure. Patience and understanding trauma and loss would be important characteristics for success with Eric. Most important of all…Eric wants a family that will always be there for him.
Ready to take the next step?