Reyes, Julia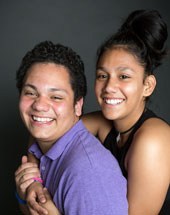 | | |
| --- | --- |
| Name: | Reyes, Julia |
| Ages: | 16, 15 |
Race:
White/Caucasian, Hispanic/Latino, American Indian/Alaskan Native
Gender:
1 male, 1 female
State:
Florida
Case #:
SCNET019751

Reyes, 16, male
Julia, 15, female

Profile Updated:
7/26/2017
Photo Updated:
3/31/2017
Reyes is a multiracial male with Caucasian, Hispanic, and Native American ethnicity. He was born August of 2001. He is very close to his sister, Julia, and they need to be adopted together. Reyes enjoys playing sports and riding his bike. He enjoys fishing and rollerblading. He enjoys cars and singing. He use to be part of a church youth group as well. Reyes and his sister come from a Spanish-speaking home. Reyes and Julia need a forever family where they can have love and stability.
Julia is a multiracial female with Caucasian, Hispanic and Native American ancestry. Julia was born July of 2002. She is very close to her brother, Reyes. Julia enjoy sports like soccer and flag football. She enjoys computers and reading. Julia use to belong to a youth church group. Julia was raised in a Spanish-speaking home. Julia needs to be adopted with her brother. Julia needs a forever family that can provide her and her brother with the stability and love they need.
Ready to take the next step?