Javonte, Demetrius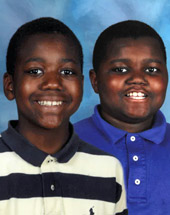 | | |
| --- | --- |
| Name: | Javonte, Demetrius |
| Ages: | 13, 11 |
Race:
Black/African American
Gender:
2 male
State:
North Carolina
Case #:
SNC1059561

Javonte, 13, male
Demetrius, 11, male

Profile Updated:
9/25/2017
Photo Updated:
12/12/2017
Meet Javonte and Demetrius. This handsome sibling group looks forward to becoming members of a family that will provide them with loving guidance, stability, and structure.
Described as polite, sweet, smart, and extremely active, Javonte loves to engage in a wide range of activities. He loves to play with remote controlled cars and helicopters. Javonte is active and enjoys dancing and playing soccer. He enjoys attending church. Javonte likes to express his creativity through play with Leggos. Javonte excels academically. He loves to read a good book. His favorite classes in school are math and computer lab. His two favorite foods are pizza and macaroni and cheese. He has dreams of one being a firefighter and being married with children.
Demetrius is described as having an outgoing, vibrant personality. Like his brother, he is handsome active, and polite. Demetrius shares common interests with Javonte such as he enjoys playing with remote controlled cars and helicopters. He enjoys singing, playing outside, and visiting the beach. Demetrius is very inquisitive and he excels academically. In school Demetrius' favorite subjects are reading and math. Pizza is his favorite food. Demetrius has dreams of becoming a veterinarian and having a wife and children.
Javonte and Demetrius deserve the security and stability that permanence offers. They desperately want to be in a forever family together. The ideal family for this handsome, loving sibling group is a home that can provide them with consistency, structure, and supervision. A family who demonstrates love and affection would be beneficial to both boys. Javonte and Demetrius would benefit from a family with a strong male role model who will spend time with them. In addition, the boys would thrive in a home where they are afforded the opportunity to engage in family time. The ideal parents would encourage and support extracurricular activities.
Ready to take the next step?