Brad, Shawn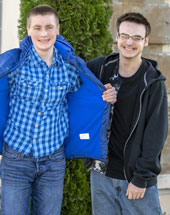 | | |
| --- | --- |
| Name: | Brad, Shawn |
| Ages: | 18, 16 |
Race:
White/Caucasian
Gender:
2 male
State:
Missouri
Case #:
SFALL019390

Brad, 18, male
Shawn, 16, male

Profile Updated:
11/7/2019
Photo Updated:
7/11/2019
Brad and Shawn love spending time together!
For Brad, the perfect ending to any day includes watching movies! If he isn't watching his favorite films, he can be found playing video games and hanging out with his friends. Brad also enjoys attending the young men's group at church. This guy is said to be a talented athlete in track and field for the Special Olympics. Pizza is his favorite food to eat, and he likes blue colors best. Flying would be Brad's superpower of choice. He is in the twelfth grade.
Shawn is a talented artist! For this youth, there is nothing more exciting than a colorful palate to use for art. He appreciates every color imaginable and couldn't fathom choosing just one. When he isn't proudly displaying his drawings and sketches, Shawn delights in constructing structures using LEGO sets. He gets along well with adults and is selective about his close group of friends. When asked what superpowers, Shawn responded that he would like the superpower of being a mind builder. It should come as no surprise that he dreams of having a career involving building, and is still deciding between an architect, assembler, or builder. Those who know him best boast of his protective nature, concern for others, and being a true friend to those who know him. Shawn is in the eleventh grade.
Ready to take the next step?