Zachary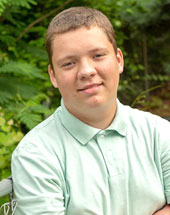 | | |
| --- | --- |
| Race: | White/Caucasian |
| Gender: | Male |
| State: | Georgia |
| Case #: | GA014508 |
| Profile Updated: | 1/3/2019 |
| Photo Updated: | 5/26/2018 |
Future zookeeper Zachary "Zach" loves animals and looks forward to going to college then having a career working with animals when he is older. Born in 2001, this sociable Caucasian teen with an infectious smile enjoys having fun, spending time with his friends, going on outings, learning about science, and playing video games.
Zach also enjoys playing Monopoly, listening to rap music, watching wrestling on TV, doing outdoor activities like playing sports (basketball is his favorite), and watching basketball and football games. His favorite teams are the Golden State Warriors and the Carolina Panthers.
Zach needs a loving adoptive family who will provide him with the attention, support, encouragement, structure, and the nurturing environment he needs to continue to thrive and reach his goals. His family will also need to support his desire to maintain his relationship with his younger brother who has been planned for separately.
Ready to take the next step?