Keanu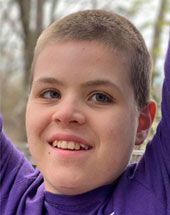 | | |
| --- | --- |
| Race: | White/Caucasian |
| Gender: | Male |
| State: | Massachusetts |
| Case #: | MA014558 |
| Profile Updated: | 9/2/2021 |
| Photo Updated: | 3/25/2021 |
Keanu is a sweet teen of Caucasian descent who loves to run and be outside. Those who know Keanu describe him as fun and adorable! Keanu loves to sing; his favorite songs include "Old MacDonald", "You Are My Sunshine", and "Wheels on the Bus." Keanu enjoys swimming in the pool and swinging on the swing set. Keanu's favorite food is pizza. Keanu's favorite toys are those that light up; when presented with a new toy, he loves figuring out how to make it work and play music.
Keanu's favorite time of the day is gym class. All of his teachers and providers constantly report what a joy he is to work with, and how much he loves being at school. Keanu continues to make progress with his speech and walking skills.
Keanu is legally freed for adoption and will need a family who can put some time into learning about his needs and learning how to set up the best possible environment for him. Keanu loves spending time with his visiting resources who would love to stay connected with him when Keanu lives with an adoptive family. Any family constellation that feels they can meet Keanu's needs will be considered.
Ready to take the next step?